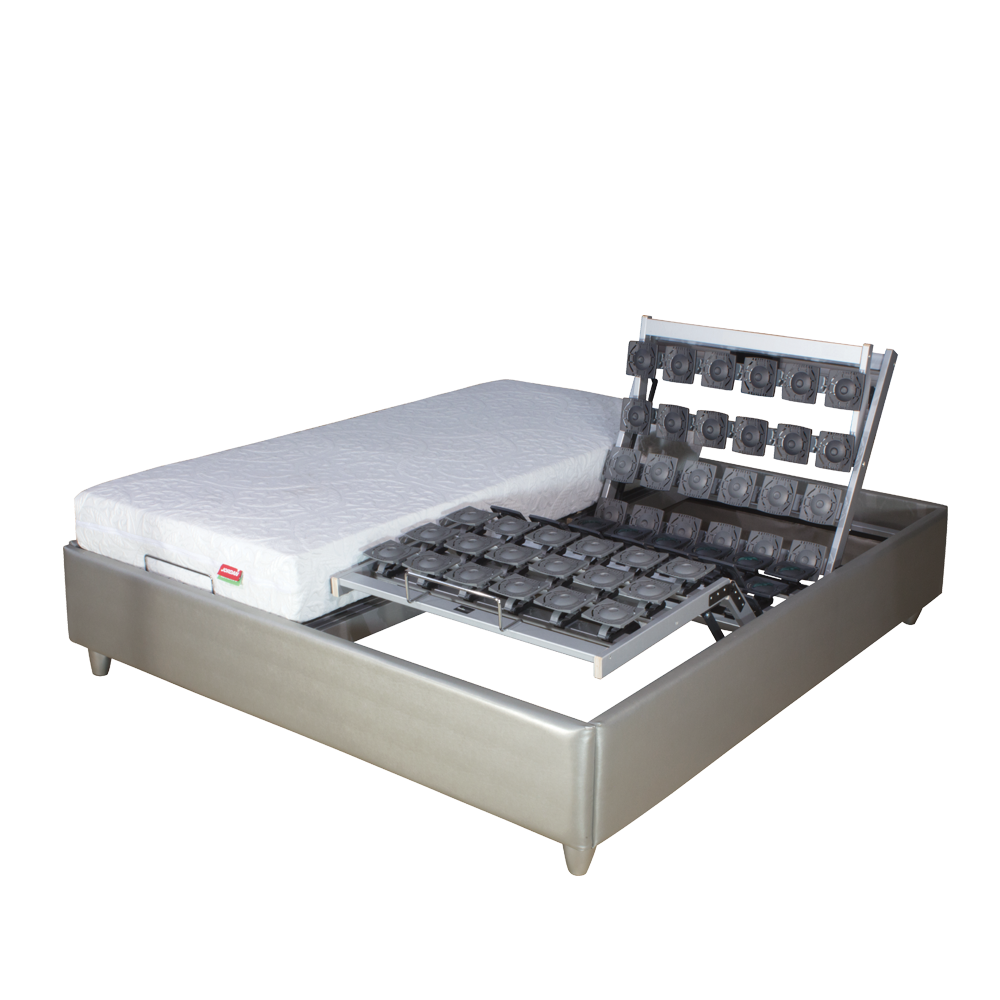 Suitable for +140 kg per person sharing.
5-Zoned Sprung-loaded Foundation
66 Pressure Absorbing Disc Pads (per single side)
2 remotes for independent adjustment
Battery Backup
Electro-smog Protector
The New Generation SwissWay 500 has an upholstered frame and is our top of the range adjustable base. This base is ideally suited for heavier-set people. More than just a movable base, this European Sleep Design's premier ergonomic adjustable bed system offers exceptional individualized comfort, and has superior form and function for a sound sleep. It is placed in an upholstered frame to give the appearance of a furniture bed, and has a choice of 8 contemporary fabrics for coordinated aesthetics. Foot stoppers keep the mattress firmly in place.
Suitability
The single base accommodates one person with a bodyweight of up to 140 kg.
The king-size base accommodates two people, each with a bodyweight of up to 140 kg.
Disc pads
The SwissWay 500 has the most advanced 'pressure absorbing disc pad' suspension system currently on the market. There are 55 individual disc pads on a single base, and 110 individual disc pads on a king-size base which:
Ventilate the mattress and allow for it to breathe
Maximise mattress lifespan by acting as a spring foundation to absorb pressure from the mattress
Continuously adjust to the body position throughout the sleep cycle to relieve pressure on the spine and ensure optimal body alignment
Zones of support
The disc pads across the base provide for 5 different degrees of support. In accordance with international chiropractic recommendations, the firmest support is supplied by reinforced discs in the centre of the base. This ensures correct alignment of the spine and provides optimum support in the lumbar area where the body needs it most. This reinforced centre additionally provides effective support when the base is in an upright position and the entire bodyweight is concentrated in the centre of the base. The disc pads in the shoulder and leg zones are softer for reduced pressure and enhanced blood circulation.
Adjustable sections
Each base has two adjustable sections. One section lifts the head, shoulder and back areas, and the other lifts the thigh, knee and foot areas. The king-size base is controlled by two separate motors to allow partners to adjust their sides independently.
Motors
The motors are German engineered, entirely silent and TUV approved. They also have a battery back-up to allow for lowering of the base during power outages. The motor can adjust the head and shoulder area independent of the thigh, knee and foot area. These two areas can also be adjusted simultaneously
Electro-Smog Protection
Any health hazard due to electro-smog is eliminated by the inbuilt Electro-Smog Protection which ensures that the electric current is only active while the base is being adjusted.
Guarantees and Warranties
2 year Manufacturer's Guarantee on motor
10 year Warranty on adjustable base