Buying a bed has never been more convenient. From online shops to video testimonials and with Google reviews, you are convinced of your purchase before you have even given it a passing thought. Buying the right bed, however, requires a little more attention.
Bring Hospitality Home
Who is Harris Hotel? An overwhelming success in the hospitality industry resulted in an increase in demand for the Harris Hotel mattresses to be made available to the public. Designed for customers wanting to own the home away from home comfort you only experience at 5-star hotels.
Harris Hotel is proudly endorsed by both the National Accommodation Association of South Africa (NAA) and the Kwa-Zulu-Natal Bed and Breakfast Association (KWABABA). Our factory manufactures for hotels groups like Hilton Hotel, Protea Hotel, Tsogo Sun, Three Cities and many more.
In this article, we will look at the key factors that influence your decision when buying a bed, and why no one does it better than the Harris Hotel.
There are 3 key factors to consider when purchasing a bed – which spring, which foam, and which fabric is most suitable for you.
Choosing the correct spring system:
The Harris Hotel bed range consists of 9 luxury, hotel quality, beds – each boasting their own benefits thanks to their unique combination of springs and foam comfort layers. It is important to note that the spring system used in a bed determines how firm and supportive the bed is.
It also contributes to factors like movement transfer, back support and pressure relief. The spring systems used in the Harris Hotel range are the double-tempered Maxi-B Spring System, the Linear Pocket Spring System, and the Nested Pocket Spring System. The benefits of each being:
The Maxi-B Spring System is made up of interconnected, hour-glass shaped coils. These springs are double-tempered and set in a thick gauge wire border which strengthens the structure.
This creates a robust network of coils which allows for a firm, supportive sleep surface and increases the mattress durability. This type of quality spring, at a consumer-friendly price, is designed using tried and tested methods offering a firm sleep foundation, longevity, and perfect sleep support.
The Linear Pocket Spring System consists of individually wrapped coils. Unlike conventional interconnected spring systems, each pocket spring will react independently of its neighbour, eliminating movement transfer between sleeping partners.
This pocket spring system is ideally suited for lighter set people and is the only spring system that contours to the shape of the body offering both comfort and support. Each spring contours to the shape of your body, alleviating pressure on the hips and shoulders whilst moulding to the curve in your lower back, offering perfect back support
The Nested Pocket Spring System is a firmer spring that also consists of individually wrapped coils but offers 30 percent more springs. This spring system is ideally suited for heavier set people.
As with the Linear Pocket Spring System, Nested Pocket Springs contour to the shape of the body as well offering both comfort and support. Each spring contours to the shape of your body, alleviating pressure on the hips and shoulders whilst moulding to the curve in your lower back offering perfect back support.
Picking the correct comfort layer:
Much like choosing the correct spring system, choosing the right comfort layer for your mattress makes a huge difference. Mattress manufacturers use different fillers to create the comfort layers within a mattress. Each layer plays a particular role in the structure and support of the mattress.
The 3 main comfort layers used in Harris Hotel mattresses are high-density virgin foam, memory foam and latex:
Virgin Foam: Virgin foam is a high-density polyurethane filler that offers comfort and support. This foam comes in different comfort ratings and densities dependant on comfort preference. Harris Hotel offers a market-leading 30 density virgin foam that offers supreme comfort at a consumer-friendly price.
Memory Foam: Memory foam is softer than virgin foam and latex. Memory foam is ideal for contouring to the shape of your body relieving pressure to the hip and shoulder area.
This foam is extremely elastic and will always return to its original shape. Memory foam is ideally suited to lighter set people and offers the right amount of support at each pressure point which is believed to assist with pain relief – resulting in a better night's sleep.
High-Density Latex Filling: Latex is also ideal for contouring to the natural curves of the body, alleviating pressure to the hip and shoulder area, whilst contouring to the lower arch of your back offering optimal back support. Latex is the eco-alternative to polyurethane foams.
This natural foam is made from rubber tree sap and is available in various densities to create varying degrees of support. Latex is a cooler material, thus limiting overheating when you sleep. Pure latex also offers anti-bacterial and mite repellent properties, adding to the hygiene and lifespan of your mattress.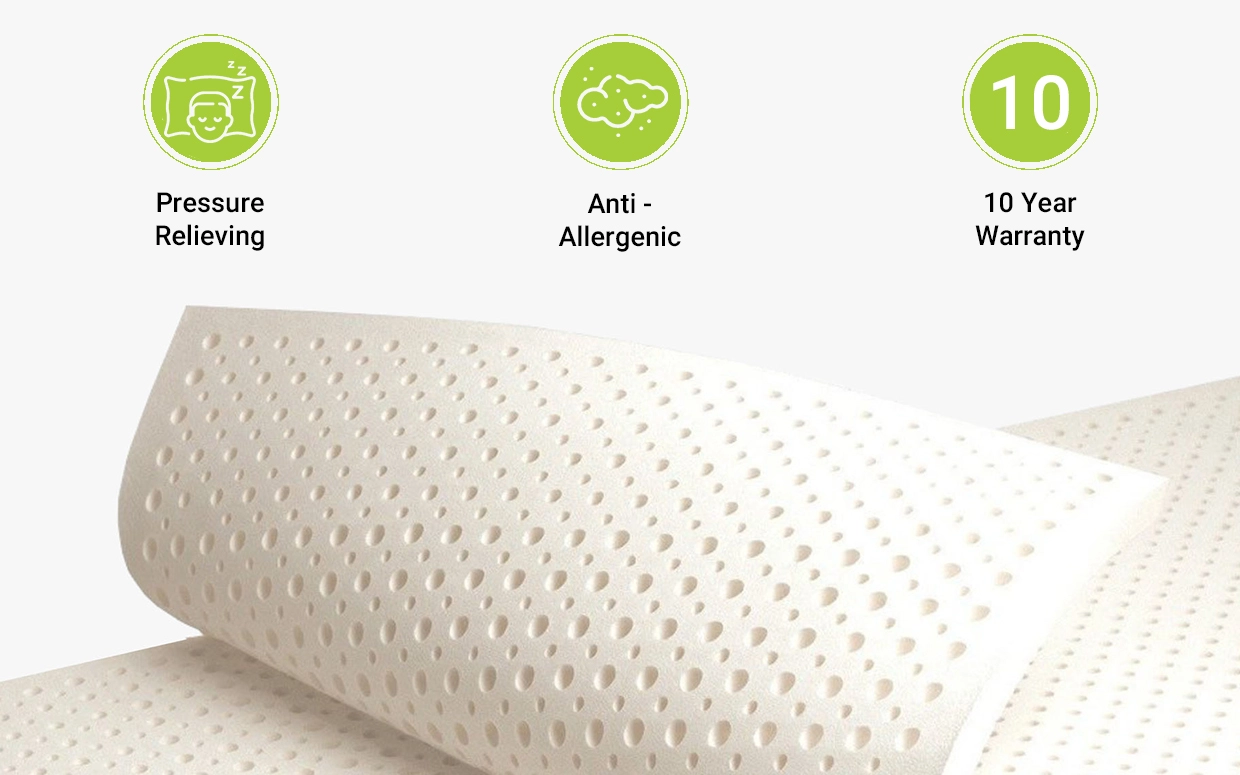 Cool Cotton fabrics:
The Harris Hotel beds are covered with breathable, cool cotton fabrics. These mattresses are also treated to prevent dust mites and bed bugs. The 3 fabrics that Harris Hotel use are infused with Aloe-Vera, Bamboo or Cool Care.
These treatments ensure optimal hygiene for your bed while repelling dust-mites thanks to their antimicrobial and antiseptic properties.
Once you have decided on which spring and comfort system will work for you, consider these other benefits which Harris Hotel offers:
Consider Harris Hotel's Orthopaedic designs:
Orthopaedic beds are a wonderful solution for heavy sleepers or those with back trouble. The materials used in orthopaedic beds add additional back support and comfort.
As outlined by the renowned Institute of Ergonomics in Munich, orthopaedic mattresses require the middle third of a mattress to be reinforced in order to give extra support in the waist area of the body, keeping the spine straight. Harris Hotel has various mattresses that adhere to these principles.
To turn or not to turn:
The unique combination of each material and spring system determines the need for a mattress to be turned or not. If you are not able to turn the mattress yourself or do not have anyone who can help you, it may be worth narrowing down your options to mattresses that do not need turning.
With the advancement of bedsprings and comfort layers, there is no need to turn modern mattresses. The springs and fillings used are designed to maintain their shape, regardless of usage.
Accurate Measurements:
Visualising space without correct measurements can be tricky. We recommend all customers use a tape measure to measure their available space in each room before purchasing a bed. It is useful to measure furniture around the bed like the height of bedside tables, the length and width of your room, and the window height.
While all Harris Hotel beds come in standard bed sizes, choosing between extra-length or extra-depth will be easier with actual measurements. A bed on display in an open-plan showroom will seem deceptively small when compared to the standard bedroom size.
Customise your bed base:
Many guesthouses, B &B's and hospitality institutions request customised bed bases to match their room décor. Harris Hotel offers up to 30 different bed base upholstery options. Allowing the customer to customise their bed base to match the interior design of their bedrooms. Matching headboards are also available to complete that modern look.
Linen choice:
The perfect hotel bed is just not the same without luxurious bed linen. You can get the complete package when purchasing a Harris Hotel bed from Fit for Bed. We offer a selection of high-quality linen products as well.
With options like these, you are set to be sleeping in luxurious, hotel comfort in no time. Contact Fit for Bed to bring hospitality home with Harris Hotel.